"Live Where You Want.
Invest Where it Makes Sense!" ™
Norada Real Estate Investments
Norada Real Estate Investments helps take the guesswork out of real estate investing. By researching top real estate growth markets and structuring complete turn-key real estate investments, we help you succeed by minimizing risk and maximizing profitability.
Who are you?
Norada Real Estate Investments is a premier real estate investment firm providing investors with quality new and refurbished investment properties in growth markets throughout the United States.
Founded in late 2003, we were the second nationwide provider of turnkey real estate – with properties as far south as Florida to as far north as Michigan.
What kind of properties do you offer?
We offer investors fully refurbished as well as new construction residential properties ranging from single-family homes on up to fourplex multi-units.
Our properties make sense the day you buy them. There is nothing that needs to happen in order for the property to be a good wealth-building investment.
What are the criteria for your investment opportunities?
Our properties must be in growth markets.
Our properties must produce a positive cash-flow.
Our properties must have appreciation potential.
Our investment properties must be turnkey and rent-ready.
Our investment properties must be at or below fair market value.
What is your definition of a "turnkey" investment property?
The property is in a stable or growth market.
The property is in a desirable neighborhood.
The property is new or has been newly renovated.
The property is cash-flow positive even if fully leveraged.
The property is leased, or in the process of being leased.
The property is under professional property management.
The property has been carefully selected with renters in mind.
What real estate markets do you prefer?
We are market agnostic – which means we select our markets based on local economic and housing factors. We do not select markets based on fads, investor demand, or "sex appeal". Markets must make sense from an economic and investment perspective. (It's just one reason we don't offer a market like Detroit.)
How do you select your markets?
We select markets based on a number of factors. At a high level, we consider economic factors that include job growth, unemployment, population growth, as well as the condition of the local housing market (inventory, price trends, etc.).
Do you manage the properties for clients?
We have professional local property managers that manage the property for you. Norada Real Estate Investments provides the initial due diligence on the property managers, as well as ongoing oversight and diligence on their performance. You are not obligated to use these property managers and are free to change them at any time.
Do you offer a rent guarantee?
Some of our properties come with a rent guarantee ranging from three months to one year. Please call us for details.
Can you help with financing my investment property?
We work with a solid team of mortgage bankers and brokers that can help you finance your investment property. Of course, you are free to use any lender you choose.
On some of our properties, we can provide you with private mortgage financing options requiring no income and/or credit qualification.
These are perfect for self-directed retirement accounts such as IRAs and 401(k)s.
What makes Norada Real Estate unique?
We are one of a small number of investment property providers that survived the 2008 housing market crash.
We do extensive research on over 400 U.S. markets.
We are Market Agnostic – we select our markets based on local economic and housing factors, not fads or investor demand.
We provide our investors unbiased counseling and advise.
We were founded by a full time real estate investor, so we think like investors.
We created the DealGrader scoring system that measures the investment quality of a real estate investment.
How do you select your team of professionals?
From the initial screening of our service providers, to the ongoing positive experiences of our clients, we build and maintain a network of professionals eager to help you succeed. That's our "Investor Network". And if we receive a complaint from our members, those professional are investigated and removed from our Investor Network.
Do you invest in real estate too?
Of course. Our founder, Marco Santarelli, started investing in real estate at the age of 18 starting with a single townhouse that he bought, renovated, leased, and managed himself. He continued building his real estate portfolio over the years up to 84 units with additional single-family homes, duplexes, and small apartments.
What's my NEXT STEP?
Contact one of our Investment Counselors to ask any questions, or to discuss your investment goals. We are here to help you build your wealth and cash-flow with our turnkey real estate investments.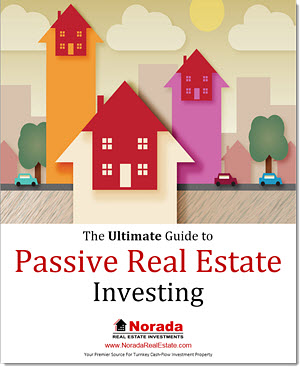 Download Your FREE Copy Now!
Real estate is the most powerful way to accumulate wealth, and more people have become millionaires through real estate than any other means.
This guide has been written in an effort to help educate all real estate investors regardless of their experience.
Dedicated to all investors who want the very best deals!
The advantages of income-generating real estate.
How to analyze properties, cash-flow and returns.
How to choose the best markets and neighborhoods.
Thanks for all that you did throughout this process. You were very knowledgeable and helpful and I will be sure to recommend Norada to anyone who is looking to get into real estate investing.
Marco has always been the most candid and trusted advisor, in bad & good, that I've had.  So GLAD I gave followed him through the years.
Thank you Marco. You are doing great work and as I am just getting started I look to you and your team for guidance and mentorship through our interactions, your podcast and your online resources -- thank you for being a mentor (and you don't even know it. 🙂
Thanks again Marco. Norada has really been a great help to me and my family and our financial goals.
I'm real close to finalizing the first 4 homes through norada. It's been a great experience thus far.
This was my first time using Norada to purchase a turnkey property out of state, and I have had a great experience working with them. Michael was great to work with. He definitely over-delivered and was invaluable to ensure the deal closed successfully.
I worked with Norada to purchase my very first investment property in Indianapolis. Steve Olsen was my guide throughout the process and he was fantastic. I had a lot of "newbie" questions that he was able to very quickly help me answer. He put me in touch with their provider in Indy, and helped cultivate that relationship. They were both very knowledgeable about the Indianapolis market, the positives and negatives, and provide a great product at a good price, along with excellent customer service. Many thanks, Norada!
Norada really helped my husband and I understand in very simple terms what it means to be a passive investor, and motivate and drive us to action. We couldn't be happier with our decision to invest. We are calling this our new baby's college savings plan!
I look forward to working with you again soon to get another property! I had a great experience and thank you!
One of your current clients, Lance, referred me to Norada and it really was a true turnkey experience from start to finish. This was the first property that I have purchased and Marco guided me through the whole process. I will be buying another home in the next 4 months from Norada because I am confident in their concepts and principles in building wealth.
For my first turn-key rental property purchases I chose to go with Norada due to Marcos experience, knowledge and decent deals available. The overal purchasing experience went smoothly and Marco was more than willing to answer any and all of the questions I had, and was upfront about everything. I'll be more than likely to purchase more properties from Norada in the near future.
I was interested in building my investment portfolio through passive income properties and really was having a hard time deciding what areas to target. I came across Norada Real Estate while listening to a real estate podcast and loved hearing about what they provide. It was a great decision to work with Norada. I couldn't be happier with the property I've acquired with positive net cash flow each month is the icing on the cake. Look forward to building my portfolio even larger!!! Thank you Norada - especially Michael!!
You read my mind. That would be great and VERY much appreciated. That kind of assistance is what makes Norada a cut above the rest!
Michael Ristau has been helping me with my first property. ...he is very responsive and followed up on any question I have for him.
Michael did an outstanding job of talking me through the process, being available anytime I needed (which is a very important quality in this business and separated me from 2-3 other similar companies) and getting me in touch with all of the necessary contacts and local market players where I wanted to invest. The team he put me in touch with was thorough, fair, and supportive through the entire process. I look forward to working with Norada again shortly.
Marco was a great help in helping to simplify the process of looking for an investment property. Thanks Marco!
Thanks Marco - it's been great. I looking forward to many more!
Marco is an awesome guy. In our industry, it's critical that you find people to work with that are smart, credible, honest, and just fun to be around. If you're looking for those things, Marco is your man.
Marco is very knowledgeable and helpful to a starter investor like myself. He navigated us through the whole process and promptly assisted us when necessary to close on our first purchase.
Marco is extremely professional and helpful. He is your go-to person for investment real estate.
I have to say that I'm really happy with the purchase.
Norada Real Estate is an excellent resource for anyone looking to invest in real estate. I enjoyed working with Marco Santarelli, and he was a great help through the entire process.
I love your setup. It makes my job a heck of a lot easier.
One thing I like about your company is the ability to be in several different markets to help diversify my real estate portfolio.
I consider myself fortunate to have found Marco and Norada Real Estate because they have access to numerous cities and really are a turnkey operation for the long distance investor. I am looking forward to expanding my real estate portfolio and would not hesitate to use Marco and Norada again.
Want you to know that Ryan and I enjoyed working with you and wouldn't mind acquiring more properties from you in the future.
You are awesome! Thanks for the advice and guiding me through each step.
I appreciate the continued excellent customer service and advice that was provided along the way.
Insights like yours are why people like yourself are so valuable on my team.
I'm a big fan of all the info you guys publish and appreciate it.
Friendly staff and great communication. I always felt like I was involved throughout the process. Property closed quickly.
Marco stepped up to the plate and became an exceptionally well versed, educated and valuable provider of quality properties and resources for anyone buying.
I am very impressed with your website and more importantly your investor approach. I like transparency and your success is proving that investors like transparency as well.
I appreciate your first-rate presentations and professionalism. You are head of the class.
Transaction was pretty smooth. All my questions were handled in timely fashion and to my satisfaction. Overall, great experience.
Marco is one of the smartest real estate guys I spoke to in the last four years!"
I can't say enough about Norada's top notch, all-around professionalism. As someone who conducts business-to-business transactions, I can vouch that they are an absolute pleasure to work with.
I would definitely consider Norada since Marco is very active in BP. In addition, he is very responsive and knowledgeable!
Norada provided me with great service and they were flexible with some of my issues during the transaction process.
In the 4-1/2 years I've been looking at Real Estate companies online, I've yet to see a turn-key property company that I think is better than Norada.
Marco made it very easy for me as an out of state investor. His expertise in the markets makes me feel very reassured.
I appreciate the great level of service that you guys gave, and will definitely keep you in mind for future deals.
The entire investment property ordeal was very foreign to me, despite the research that I was able to do prior. I want to commend Marco for being so transparent, informative, and diligent with me; you are a great businessman!
My wife and I connected with Marco and he was very knowledgeable and helpful in assisting us purchasing a duplex in Indianapolis. His network covers all aspects of the purchase with very few surprises. We are looking forward to working more with him and his team in the near future.
The process was incredibly easy and the investment exceeded our objectives. Thank you for providing us the opportunity to hit a home run and strengthen our financial portfolio!
I'm an investor from the Netherlands (Europe) and trust is the most important factor for me. Marco earned my trust over and over by his knowledge and his excellent service.
Marco and his team were very responsive, thorough and honest. I have already recommended them to other investors.
Everything went as planned. Everyone Norada lined up was easy to work with. Couldn't ask for an easier transaction. I am very satisfied with my investment.
Marco was professional, helpful and informative throughout my initial investment opportunity. His knowledge, guidance and support made my experience exceptional!
Your company and website provide an awesome resource for the aspiring 'turn-key' investor.
Marco is not only full of knowledge and experience, he goes out of his way to share that information by making himself extremely accessible. His patient guidance on everything from property purchasing to asset protection has made my foray into the highly stressful world of real estate investing a genuine pleasure. I look forward to working with Marco many more times in the future.
Simple process and very reliable guidance -- buying through Norada is a breeze!
Your commitment to always give value to your prospects (web site tools, blog, personal time, etc.) is a terrific distinguishing attribute and sets Norada apart from other real estate firms.