California, renowned for its allure and high cost of living, grapples with challenges within its housing market as we step into 2023. In this blog post, we delve into the latest data and reports from various sources to unveil the prevailing trends, prices, and predictions for the California real estate market over the next 5 years.
According to the California Association of Realtors (C.A.R.), existing, single-family home sales reached a total of 241,770 in October. This number, calculated on a seasonally adjusted annualized rate, exhibits a marginal increase of 0.3 percent from September. However, a notable decline of 11.9 percent is observed when compared to October 2022.
One of the pivotal indicators of the real estate market's health is the median home price. In October, the statewide median home price stood at $840,360. While this figure reflects a slight decrease of 0.4 percent from September, it marks a substantial 5.3 percent increase from the same period in the previous year.
Looking at the year-to-date statewide home sales, October reveals a 27.2 percent decline. This dip in sales reflects the overarching impact of various factors, including economic conditions and changing buyer sentiments.
As we dissect the numbers, it becomes apparent that the California housing market is navigating through a complex landscape. The marginal increase in October home sales suggests a nuanced response from both homebuyers and sellers in the face of prevailing challenges.
The muted home sales in October can be attributed to the influence of elevated interest rates. As the cost of borrowing rises, prospective homebuyers may adopt a cautious approach, affecting the overall transaction volume in the market. The delicate balance between supply and demand becomes more pronounced under these circumstances.
The economic backdrop plays a crucial role in shaping real estate trends. Understanding the interplay between economic conditions and housing dynamics provides valuable insights. A 27.2 percent decline in year-to-date statewide home sales underscores the multifaceted impact of economic shifts on the real estate sector.
Real Estate Forecast Next 5 Years California
CAR anticipates an overall reduction in existing home sales and median prices for 2023:
Fewer Homes for Sale: Single-family home resales dropped by 19.2% from 2021 to 2022. The association predicts 7.2% fewer homes will sell in 2023.
Lower Median Home Price: After a 5.7% year-over-year increase, reaching $831,500 in 2022, CAR estimates the statewide median price will dip to $758,600 in 2023, reflecting an 8.8% decline.
Real Estate Demand Likely to Remain Steady: Despite price adjustments and homes lingering longer on the market in many counties, buyer demand and prices are expected to remain steady, maintaining a seller's market or a neutral market.
2024 California Housing Market Forecast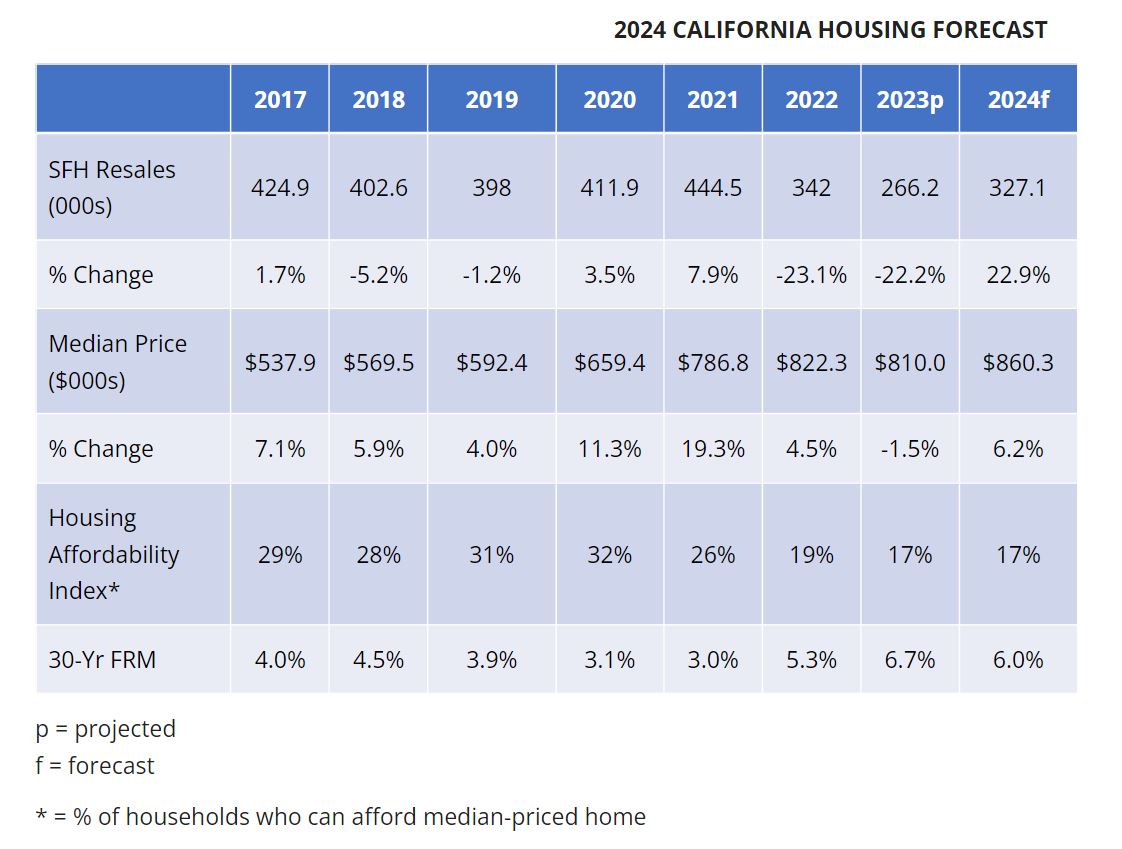 The 2024 California Housing Market Forecast by C.A.R., unveiled on September 20, 2023, predicts a rebound in the state's housing market for 2024 as mortgage rates recede. The forecast foresees existing single-family home sales reaching a total of 327,100 units in 2024. This reflects a substantial 22.9% increase from the projected pace of 266,200 in 2023. However, the 2023 figure is notably 22.2% lower compared to the pace of 342,000 homes sold in 2022.
The projection also anticipates a 6.2% rise in California's median home price to $860,300 in 2024. This follows a projected 1.5% dip to $810,000 in 2023 from $822,300 in 2022. A persistent housing shortage and a fiercely competitive housing market will continue to exert upward pressure on home prices throughout the upcoming year.
The chief catalyst for the housing market's resurgence in 2024 will be the decline in mortgage interest rates. Rates are expected to plummet from 6.7% in 2023 to 6.0% in 2024. This change is anticipated to foster a more favorable market environment for both buyers and sellers, reigniting their motivation to participate in the market next year.
First-time buyers, previously challenged by the highly competitive market, will strive to attain their American dream in the upcoming year. Additionally, repeat buyers, having surmounted the "lock-in effect," will rejoin the market as mortgage rates commence their downward trajectory.
The forecast hinges on a baseline scenario, assuming slower economic growth and cooling inflation in 2024. The U.S. gross domestic product is projected to edge up 0.7% in 2024, following a projected uptick of 1.7% in 2023. California's 2024 nonfarm job growth rate is estimated at 0.5%, up from a projected increase of 1.4% in 2023.
As a result, the state's unemployment rate is predicted to increase to 5.0% in 2024, up from the projected rate of 4.6% in 2023. Inflation is expected to maintain its gradual decline over the next 18 months, with the CPI registering 2.6% in 2024, a decrease from 3.9% in 2023.
However, it's important to acknowledge that this forecast is subject to uncertainty and risks, including the ongoing COVID-19 pandemic, geopolitical tensions, natural disasters, and policy changes. The forecast provides alternative scenarios, accounting for varying assumptions and outcomes relating to these factors.
Final Thoughts
While challenges persist in the California housing market, including rising mortgage rates and dwindling inventory, the market remains remarkably resilient. Striking the right balance between supply and demand will be crucial as we progress, and regional variations are expected based on local factors. For those aiming to buy or sell a home in California over the next 5 years, staying well-informed and prepared for potential changes is paramount.
---
Sources:
https://www.car.org/

https://www.car.org/en/aboutus/mediacenter/newsreleases/2023-News-Releases/2024housingforecast