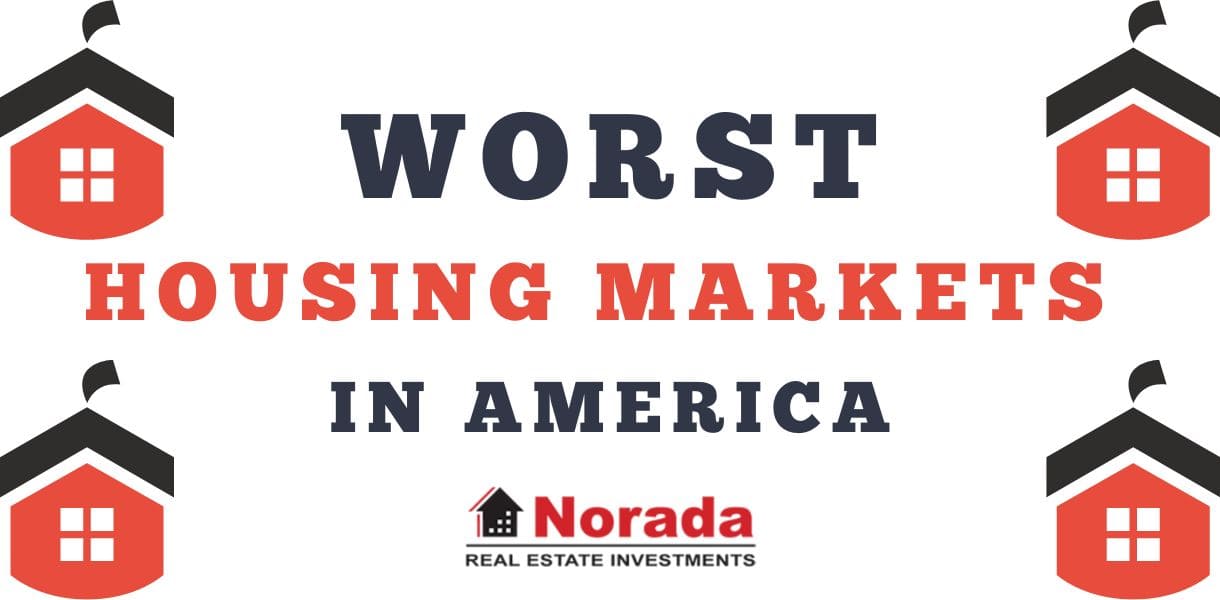 Smart Asset released its list of the worst housing markets for growth and stability.  Topping the list was Flint, Michigan where the glut of inventory continues to linger leading to the chance of home price decline. Smart Asset analyzed house value data from 400 metropolitan regions across the United States. They examined data from every quarter from the first quarter of 1997 until the fourth quarter of 2021.
Of the markets analyzed, not one market showed any sign of a positive price appreciation forecast.  With slow sales and dropping prices, the aggressive investor may be able to pick off some very good deals in these markets. Research, patience, and a sharpened sense of value can land you a great real estate investment.
Click to read about -> The Hottest Real Estate Markets of 2022
Here Are the 5 Worst Housing Markets in the US
Michigan has three of the five worst housing markets in terms of growth and stability. Flint, Monroe, and Detroit-Dearborn-Livonia are among them. Over the last 25 years, the house price index has averaged an annualized growth of 2.62 percent or less in all three locations.
1. Flint, MI
Like last year, the Flint metro area ranks as the worst housing market of 2022 for growth and stability. Using historical data, they found that the chance a home price dropped more than 5% in value within 10 years of purchase is 45% – the second-worst rate for this metric. Additionally, over the past 25 years, the average home price has increased less than 83% – the 25th-worst in their study.
2. Monroe, MI
About 40 miles south of Detroit, the Monroe metro area ranks as the second-worst housing market for growth and stability. There is a 44% chance of a significant price decline for home buyers and from 1997 through 2021, the average home price index increased by only 83.77% or an annualized rate of return of less than 3%.
3. East Stroudsburg, PA
Part of the Poconos, East Stroudsburg's housing market ranks the worst for stability in their study and 62nd-worst for growth. The probability of an East Stroudsburg homeowner experiencing a significant price decline is 46% and the overall home price index increased by less than 103% over the past 25 years.
4. Detroit-Dearborn-Livonia, MI
Over the past 25 years, the average home price in Detroit-Dearborn-Livonia, Michigan rose by only 2.62% annually on average. This is significantly lower than the annualized increase for the top housing market in our study (Austin-Round Rock-Georgetown, Texas, at 6.37%). Additionally, Detroit-Dearborn-Livonia ties with Monroe for the third-worst housing market stability score.
5. Rockford, IL
Located in northern Illinois, Rockford ranks as the fifth-worst housing market for growth and stability across all 400 metro areas they considered. If you bought a home in the Rockford metro area between 1997 and 2021, there was a 39% chance the home would have lost at least 5% of its value within 10 years of its purchase. Home prices, meanwhile, rose just 67.25% in that time span, 398th of the 400 metro areas studied.
The complete list of the worst housing markets in 2022 is represented in the following infographic.
Methodology For Worst Housing Markets
To determine the best and worst housing markets for growth and stability, SmartAsset examined data from 400 metro regions and compared them using the following two metrics:
Stability: This is the probability that homeowners experienced a significant price decline (5% or more) at any point in the 10 years after they purchased the home.
Overall home price growth: The total growth in home prices during the period we analyzed.
All data comes from the Federal Housing Administration (FHA) and covers the 25 years from the first quarter of 1997 through the fourth quarter of 2021. They used these two metrics to create our final rankings. Areas received a score of 100 on the stability metric if there was a 0% chance of a significant price decline. The metro area with the highest chance of a significant price decline (46%) received a score of 0. Similarly, the metro area with the highest overall home price growth received a growth index score of 100 and the metro area with the lowest growth received a 0. They then averaged each metro area's scores over the two metrics, ranging from the highest average score to the lowest.
Top 5 Coolest Housing Markets in the United States
In June last year, Bankrate also released a report on which real estate markets are doing the worst during the pandemic-led housing boom. As a nationwide housing boom rages, every state saw property values increase during the 12 months that ended in September. However, some state economies are struggling with weak job growth and other challenges.
These housing markets were in the bottom five on their index:
47. Connecticut. This state posted poor showings across the board.
48. Washington, D.C. The district's score was brought down by weak appreciation, high unemployment, and a hefty tax burden.
49. Alaska. Tepid job growth and high unemployment weighed down the northernmost state.
50. Maryland. The state posted a comparatively weak appreciation of 11 percent, along with a high level of past-due loans and a sputtering job market.
51. Louisiana. It ranks worst in past-due loans, with 6.8 percent of homeowners behind on their mortgage payments. Louisiana also fares poorly on price appreciation, job growth, and tax burden.
Housing Markets That Could See a Price Decline
According to data released by the Federal Housing Finance Agency (FHFA) on Tuesday, home prices are now 34% higher than they were two years ago, and they have continued to rise from March to April. But even though the housing market is bad for buyers all over the country, home prices have gone up more in some places than in others. This has led some people to worry about a possible crash in the housing market.
At the top 3 positions, we have Boise, Colorado Springs, & Las Vegas which are expected to see some significant price declines. Prices in these markets have increased by 30% in the last year. According to Mark Zandi, chief economist at Moody's Analytics, "the most overvalued markets are in the South and Southwest," in those areas where home prices got "juiced up by remote work" during the COVID pandemic. "Carolinas, Atlanta, down into Florida, parts of Texas, and then the Mountain West.
You could draw a line from Boise down to Phoenix and Tucson —and all the major metropolitan areas on either side of that line are meaningfully overvalued," Zandi tells Newsweek. According to Thomas LaSalvia, the senior economist at Moody's Analytics, things are becoming worse in many Sun Belt cities where there has been any movement in the previous few years, especially in those where there has been steady migration in the last few decades.
Many of the out-of-state people who migrated to these cities came with "large savings accounts from selling their home in a higher-priced area or large remote work incomes" to areas where the local population had a substantially lower income. With this money, they pushed local buyers out of the market in bidding wars for purchasing homes.
These are the cities with the most overvalued homes in the nation:
Boise City, ID
Colorado Springs, CO
Las Vegas, NV
Phoenix, AZ
Coeur d'Alene, ID
Tampa, FL
Atlanta, GA
Fort Collins, CO
Sherman, TX
Jacksonville, FL
Idaho Falls, ID
Lakeland, FL
Greeley, CO
Longview, WA
Charleston, SC
Albany, OR
Denver, CO
Clarksville, TN
Greensboro, NC
Charlotte, NC
---
Sources:
https://www.bankrate.com/mortgages/housing-heat-index/

https://smartasset.com/data-studies/best-and-worst-housing-markets-for-growth-and-stability-2022

https://www.newsweek.com/housing-market-crash-could-hit-these-20-cities-hardest-1720201