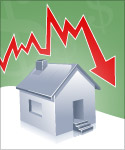 Real estate has been regarded as one of the safest investments for quite some time.  However, despite the relative safety of real estate investments, there is always the possibility that the real estate market can fall just like any other investment.
Over the long term, real estate remains relatively safe simply due to the fact that the population of the world continues to increase while land is a limited resource.  When there is an occasional downturn in the real estate market, it is important to recognize certain strategies which can be used in order to keep a real estate investment from becoming a complete loss.
The first thought many people have when they realize the market has turned down is to attempt to sell the property as quickly as possible before the market gets worse.  In reality, most investors have found that it is often better if they can hold onto the property and ride out the market downturn.  While it is possible the market might dip lower before it rebounds, historically real estate markets always come back.