Welcome to our blog post on rent prices across the United States. Rent prices have been a hot topic of discussion, especially as the cost of living continues to rise in many areas. In this post, we'll take a closer look at the current state of rent prices at a national level and examine the current trends and data to help understand whether the rental market will crash in 2023. Whether you're a renter, a landlord, or simply curious about the state of the rental market, you'll find valuable insights and data in this post. So, let's dive in.
Will Rent Go Down in 2023? Exploring Notable Trends
As the rental market continues to evolve, renters and landlords alike are keen to understand the trends and potential changes in rent prices. Zumper, a prominent online rental platform, regularly releases its National Rent Report, offering valuable insights into the state of the rental market across the United States. In this blog post, we will delve into the latest findings from the Zumper National Rent Report to examine notable trends and explore whether rent is expected to go down in 2023.
National Rent Report – Notable Trends:
The national median for a one-bedroom home is $1,510, representing a 0.3 percent month-over-month increase and a 1.6 percent year-over-year increase (the smallest year-over-year increase in more than two years). At $1,864, two bedrooms are up a tenth of a percent over last month and up 3.9 percent over last year.
The Current Rental Landscape
Pandemic-era trends continue to slowly unravel in markets including Miami, Nashville, Boise, and Chicago. A closer look at San Francisco's rental market reveals pockets of revitalization in neighborhoods like Dogpatch and Outer Sunset.
Slow and steady: The slowdown of price increases we've observed over the last year continues this month, with one-bedrooms up less than half a percentage point over last month and two bedrooms up just a tenth of a percentage point. At 1.6 percent, the year-over-year increase in one-bedroom median rent is the smallest year-over-year increase we've seen in more than two years.
Renters' Mindset
These numbers are proof positive that the wild price swings we saw during the pandemic will take even more time to normalize. Zumper CEO Anthemos Georgiades weighs in: "Many renters are still in a wait-and-see mindset. Americans' nerves about economic uncertainty have been somewhat soothed by slowing inflation, but there are certainly lingering fears following the roller-coaster ride our economy—and the rental market—have been on for more than three years. We expect rental rates to continue doing exactly what we've seen over the last year: gradually slow down and settle into seasonal patterns."
Zoomtowns and Recovery
The smoothing out of pandemic-era anomalies is especially apparent in Zoomtowns that were once remote-work darlings but haven't retained enough residents to sustain drastic price increases. Boise, for example, dropped six spots this month; its median one-bedroom rent of $1,330 is down 6.3 percent month-over-month and down 8.3 percent year-over-year. During the height of the pandemic, we reported year-over-year increases in Boise of nearly 25 percent.
In September 2021, Boise's median one-bedroom rent was nearly 8 percent above the national median. This month, its one-bedroom median of $1,330 is 12 percent lower than the national figure. Even enduring hot spots like Miami and Nashville are down slightly this month, while prices in red-hot Jersey City are softening following the area's breakneck price increases over the last two years. Similarly, cities that lost residents during the height of remote work continue to slowly recover. Chicago's one-bedroom median is up 6 percent over last month and up nearly 16 percent over last year.
San Francisco Spotlight
It's hard to avoid news headlines about San Francisco's supposed downfall, what with record-high office vacancy rates, stalled building projects, a rise in property crimes and tech-industry layoffs. But many San Franciscans (including several Zumper staffers) view all this "doom loop" talk as overblown and harmful to the city's future. So we zoomed in on San Francisco this month, analyzing price and demand trends by neighborhood and finding a much more nuanced story.
Instead of the widespread decline depicted in the media, we're seeing a reshuffling of creativity, food and tech interest—away from downtown and into the neighborhoods where people now spend the majority of their time.
San Francisco's Rental Evolution
In pre-pandemic times, San Francisco was the long-running most expensive city for renters in the country. Then the world changed and many Americans—particularly tech workers—embraced work-from-anywhere policies. In August 2021, San Francisco lost the top spot to New York City after seven straight years at the top of Zumper's list. It was even surpassed by Boston for a month last summer; today, it sits just under Jersey City at number three.
San Francisco's one-bedroom median rent of $3,040 is 15 percent lower than pre-pandemic (February 2020) and flat over a year ago. But—just as we found in last month's New York City breakdown—each neighborhood tells a different story.
Neighborhood Insights
Of the 45 neighborhoods we examined, median one-bedroom rent is down year-over-year in 27, down in 14 and flat in four. The neighborhood with the sharpest year-over-year decline is SoMA: At $3,010, its one-bedroom median is down 13.75 percent over last year and down a whopping 25.5 percent compared to February 2020 (the last full month of pre-pandemic data).
"A closer look at San Francisco shows seeds of recovery and a city that's slowly but surely reinventing itself," says Georgiades. "Downtown and nearby neighborhoods like SOMA and Tenderloin are still struggling, but San Francisco's ingenuity and vitality are on full display in neighborhoods like Dogpatch and Outer Sunset."
Emerging Neighborhoods
Dogpatch—a once-industrial neighborhood by the San Francisco Bay—is home to buzzy new restaurants and the recently opened Institute of Contemporary Art San Francisco. It's also now the most expensive neighborhood in the city, with a median one-bedroom rent of $3,790—which is a 7.7 percent year-over-year increase. We expect gentrification in the area to continue, as the former coal-burning Potrero Power Station undergoes a $2 billion makeover that will open a large swath of waterfront to the public and include a mix of apartments, a hotel, green spaces, and retail.
Once considered a sleepy residential area, Outer Sunset is an increasingly attractive place to live: It's largely considered safe and family-friendly, and is becoming more pedestrian-friendly thanks to a recently enacted weekend ban on cars along the Great Highway along Ocean Beach. While rents are up 10.3 percent over last year and 15.7 percent over February 2020, this neighborhood is still one of the more affordable areas to rent. We've also seen a 95 percent year-over-year increase in renter interest in Outer Sunset (measured by the number of Zumper users reaching out to inquire about a residence).
The Future of San Francisco
While downtown-area businesses continue to struggle (and, in many cases, shutter) due to lack of foot traffic, all hope is not lost for San Francisco. Area residents are helping build the types of neighborhoods they want to live in: walkable, creative and family-friendly with vibey restaurants and bars. Meanwhile, large developments in neighborhoods like SoMA and Bayview will continue to change the landscape. While Hayes Valley is down a significant 9.65 percent over last year, it's garnered attention from AI entrepreneurs who will surely help evolve the area in their own way.
Though this table represents San Francisco proper only, we have noticed price increases in cities down the peninsula where tech workers are returning to offices. For example, Mountain View, which houses Googleplex, saw rent climb 22.2 percent over this time last year and Menlo Park, where Meta is headquartered, is up 14.3 percent.
Rent Price Trends in 2023 Across the United States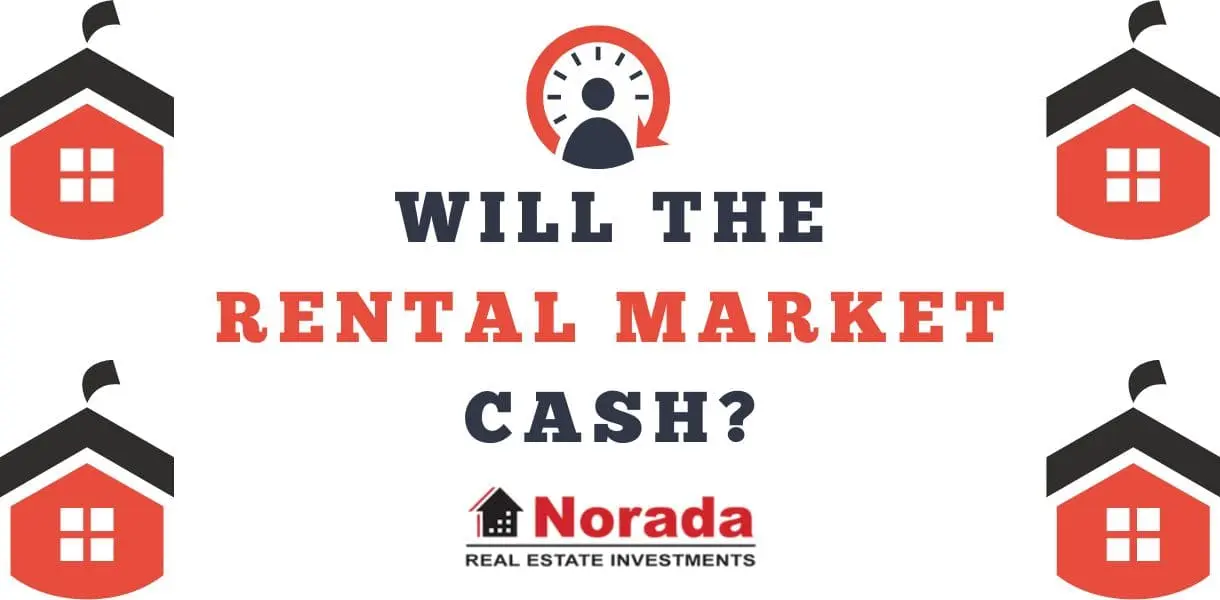 The rental market has been a rollercoaster of ups and downs in recent times. From price drops to steady growth, renters and landlords are eagerly monitoring the market to understand what to expect in 2023. In this section, we will analyze the latest trends from Rent.com's data, to gain insights into whether rent will go down in 2023.
Rent prices continued to climb in July, growing 0.31 percent year over year. The increase is less than June's 0.50 percent bump — and less than the 0.40 percent average yearly growth rate since February 2023 when prices began to climb after steady declines following last summer's peak.
National Rent Price Trends
From June to July, rents rose by less than 0.50 percent. Specifically, the 0.41 percent increase was just the second monthly increase below 1 percent in the last five months. Including April's -0.24 percent decrease, the only other sub-1-percent increase, monthly changes have averaged just over 1 percent since February's low.
The national median rent price is now $2,038, only $15 less than levels from August 2022 when prices peaked at $2,053. Since February 2023, when rents bottomed out at $1,936, prices are up nearly 5 percent. Should rents continue to rise at the average rate since February, the national price would surpass last August's record next month by nearly $5, setting another historical high.
Broad trends across the industry including an influx of new inventory and demand below seasonal norms have worked to slow rent growth to below-normal rates. Prices even dipped negative year over year in May. But rents continue to be elevated in the longer term. Over two years, the cost of renting has increased by 14 percent, representing annualized growth of nearly 7 percent and adding almost $250 to monthly rent bills. Over the course of the pandemic, rents have risen 25 percent, or more than $400, since 2019.
State Rent Price Trends
State-level rents decreased on a yearly basis in 33.33 percent of markets in July, the same proportion as in June. Monthly increases ticked up with more than 64 percent of states seeing increases in July compared to 57 percent in June. Regionally, the West was the only area to register yearly declines, dipping 1.12 percent year over year.
In the Northeast, the most expensive region in the nation, rents grew by 4.65 percent on a yearly basis, followed by the Midwest, where rents rose by 4.31 percent. Despite the steep increase, the Midwest remained the most affordable with a median rent of just over $1,400. The South grew moderately at just one-quarter of 1 percent.
Year-over-Year State Increases
South Dakota (+22.61 percent)
Mississippi (+22.40 percent)
Iowa (+14.25 percent)
New York (+13.00 percent)
North Dakota (+11.67 percent)
Year-over-Year State Decreases
Washington (-7.72 percent)
Pennsylvania (-5.76 percent)
Oregon (-5.66 percent)
Utah (-4.99 percent)
Nevada (-4.16 percent)
Metro Area Rent Price Trends
Among the 50 most populous metropolitan areas, the Midwest had the biggest share of the highest gainers in July. The Kansas City, MO, metro saw the most significant yearly increase at 16.17 percent.
Other Midwestern metros, including Columbus, Detroit and Minneapolis, saw increases of 5.08 percent, 4.74 percent and 8.14 percent, respectively. Oklahoma City, Memphis and Charlotte led yearly increases in the South. Despite regional declines, California metros San Jose and San Diego, were also among the largest yearly gainers with 7.38 percent and 6.42 percent increases.
Top Metro Area Gainers
Kansas City, MO (+16.17 percent)
Oklahoma City, OK (+9.31 percent)
Memphis, TN-MS-AR (+8.16 percent)
Minneapolis-St. Paul-Bloomington, MN-WI (+8.14 percent)
Providence-Warwick, RI-MA (+7.97 percent)
Top Metro Area Declines
New Orleans-Metairie, LA (-13.43 percent)
Austin-Round Rock-Georgetown, TX (-12.81 percent)
Seattle-Tacoma-Bellevue, WA (-10.75 percent)
Portland-Vancouver-Hillsboro, OR-WA (-9.81 percent)
Las Vegas-Henderson-Paradise, NV (-9.57 percent)
Rental Industry Trends
Junk fees may be contributing to the housing affordability crisis
A recent National Consumer Law Center report revealed that additional rental 'junk' fees, such as pet fees, deposits, pest control fees and even arbitrary fees like a "January fee," are worsening the affordable housing shortage. The report found that rental housing fees put safe and decent housing even further out of reach for renters.
These fees add to the high cost of rent — over 40 percent of renter households in the U.S. are cost-burdened and paying more than 30 percent of their income on housing costs. The Biden Administration announced on July 19 its commitment to eliminate housing junk fees that are detrimental to consumers and to improve transparency in the process.
"Rental housing junk fees put safe and decent housing even more out of reach because renters must pay them on top of sky-high rents," Ariel Nelson, staff attorney with the National Consumer Law Center, said in a press release. "We are greatly encouraged that the Biden Administration is taking rental housing junk fees seriously."
First-time homebuyers need to earn 13 percent more than last year to buy a starter home
A first-time homebuyer must earn about $64,500 annually to afford a typical U.S. starter home, according to a recent report from Redfin. This is an increase of 13 percent ($7,200) from a year ago, as home prices continue to rise and mortgage rates remain elevated. Cash buyers purchase almost 40 percent of these homes, and in the first quarter of 2023, a record 41 percent of investor purchases were for small homes with 1,400 or fewer square feet.
The demand for starter homes is high, but the supply is low, which has prompted competition and increased prices. "The most affordable homes for sale are no longer affordable to people with lower budgets due to the combination of rising prices and rising rates. That's locking many Americans out of the housing market altogether," Redfin Senior Economist Sheharyar Bokhari said in the report.
Will Rent Go Down in 2024? Is a Rental Market Crash Coming?
Amidst the fluctuating rent price trends observed in recent months, many renters and industry experts are wondering whether the rental market is headed for a crash in 2024.  It is too early to say for sure whether rent prices will go down in 2024. However, there are some signs that suggest they may start to cool down.
One factor that could contribute to a decline in rent prices is rising interest rates. The Federal Reserve is raising interest rates in an effort to combat inflation. This is making it more expensive to borrow money, which could lead to a decline in demand for rental properties.
Another factor that could lead to lower rent prices is the increasing supply of rental units in the US. More and more people are choosing to rent instead of buy, which is increasing the supply of rental units on the market. This increased supply could help to put downward pressure on rent prices.
Finally, a weakening economy could also lead to a decline in rent prices. If the US economy weakens in 2024, it could lead to a decline in demand for rental housing. People who are losing their jobs or who are seeing their incomes decline may be more likely to move in with family or friends or to downsize to a smaller rental unit.
Of course, there are also some factors that could keep rent prices high in 2024. For example, if inflation continues to rise, it could lead to higher costs for landlords, which they may pass on to renters. Additionally, if the US economy remains strong, it could lead to continued demand for rental housing.
Overall, it is too early to say for sure whether rent prices will go down in 2024 in the US. However, there are some signs that suggest they may start to cool down. Renters should keep an eye on the housing market in the coming months to see how trends develop.
While it's challenging to predict the future of the rental market with absolute certainty, we can analyze the current trends and potential factors influencing its trajectory.
Several key factors contribute to the uncertainty surrounding the rental market:
1. Economic Conditions
The health of the overall economy plays a significant role in the stability of the rental market. Economic factors, such as employment rates, inflation, and wage growth, can impact renters' ability to afford housing. Economic downturns can lead to higher unemployment rates and financial stress among renters, potentially causing rent prices to decline or stagnate.
2. Housing Supply and Demand
The balance between housing supply and demand is a crucial determinant of rent prices. A shortage of rental properties relative to the number of renters can drive up prices, while an oversupply can lead to rent decreases. Regional variations in supply and demand can also affect localized rental markets differently.
3. Policy Changes
Government policies and regulations, such as rent control measures and eviction moratoriums, can have a significant impact on the rental market. Policy changes aimed at addressing housing affordability may influence rent price trends. It's essential to monitor legislative developments that could impact the market's stability.
4. Pandemic Effects
The COVID-19 pandemic introduced unique challenges to the rental market. While it initially led to rent decreases in some areas, the longer-term effects remain uncertain. Factors like remote work trends, housing preferences, and pandemic-related policies continue to shape the rental landscape.
Therefore, whether rent will go down in 2024 or not will depend on the rising interest rates, an increasing supply of rental units, and a potentially weakening economy. However, inflation and a strong economy could keep rent prices high.
How Do These Rent Price Trends Impact Renters?
The rent price trends outlined in the August 2023 Rent Report have several implications for renters:
1. Affordability Challenges
Rising rent prices can pose affordability challenges for many renters. As rents increase, a higher percentage of renters may find themselves spending a significant portion of their income on housing costs, potentially impacting their financial well-being.
2. Regional Variations
Rent price trends can vary significantly by region and metro area. Renters should be aware of the local market conditions in their desired location, as affordability and availability can differ widely from one place to another.
3. Policy Awareness
Renters should stay informed about any policy changes that could impact their rights and rental costs. Understanding local rent control laws, tenant protections, and eviction policies is crucial for renters to advocate for their interests.
4. Long-Term Planning
For renters considering long-term housing decisions, such as purchasing a home, it's important to factor in rent price trends and potential future changes. Assessing housing market conditions and making informed decisions can help renters navigate changing landscapes.
Hence, for renters in the United States, navigating the rental market in 2023 requires careful attention to the trends and dynamics at play. While some areas may offer cost-saving opportunities due to rent declines, others may present challenges in terms of affordability. Staying informed about regional rent trends, monitoring supply and demand dynamics, and planning accordingly can help renters make the best decisions for their housing needs.
Overall, renters should be prepared for a dynamic and evolving rental landscape and be ready to adapt to changing conditions as they explore their housing options in 2023.
https://www.zumper.com/blog/rental-price-data/

https://www.rent.com/research/average-rent-price-report/