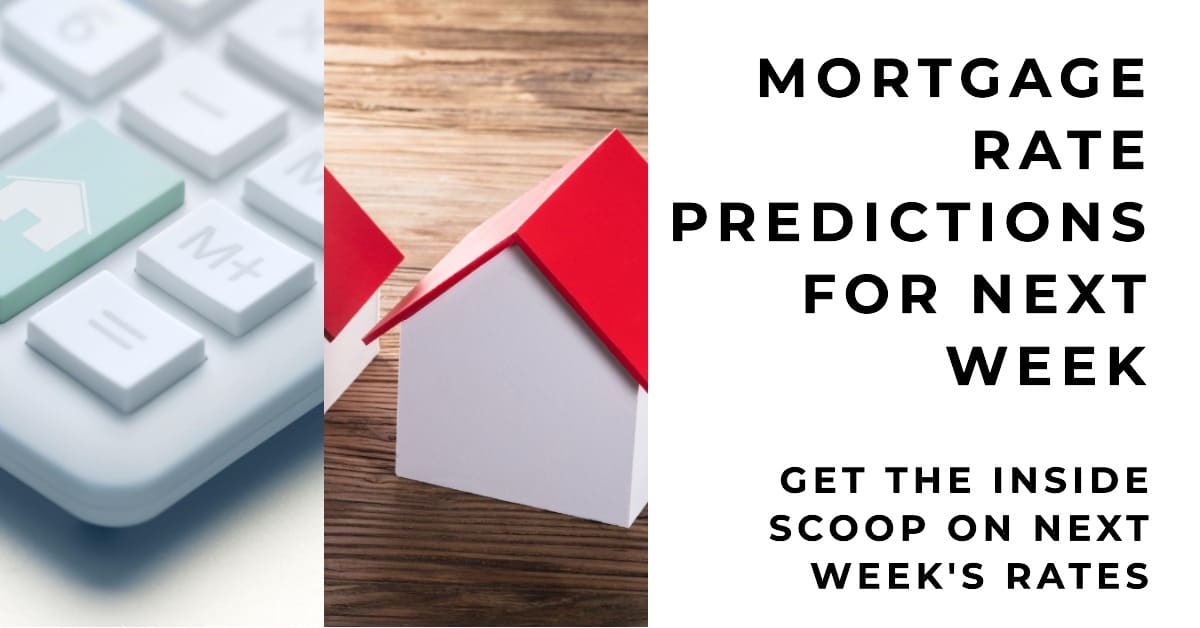 Mortgage rates have a significant impact on the real estate market, affecting both buyers and sellers. Even a small shift in interest rates can significantly affect the affordability of homes, monthly payments, and the overall demand for properties. Therefore, it is essential to keep an eye on mortgage rate trends and predictions to make informed decisions. In this blog post will analyze mortgage rate predictions for next week and what it means for buyers and sellers.
What Are the Mortgage Rate Predictions for Next Week?
The mortgage market is witnessing interesting shifts, prompting experts to weigh in on the Mortgage Rate Trends and Predictions. According to Bankrate's recent expert poll, a significant majority anticipates a favorable development in mortgage rates, providing potential benefits for homeowners and potential buyers alike.
Current Expert Predictions
The latest expert poll conducted by Bankrate reveals insightful predictions regarding the Mortgage Rate Trends for the week of Nov. 21-28, 2023. Here's a breakdown of the expert opinions:
Go up: 10%
Stay the same: 20%
Go down: 70%
These percentages, provided by industry experts, indicate a strong consensus that the majority believes mortgage rates will decrease in the upcoming week.
Factors Influencing Mortgage Rate Trends in the Coming Weeks
Several experts offer insights into the factors influencing the current Mortgage Rate Trends:
Sean Salter, Middle Tennessee State University: Anticipates a decline in mortgage originations during the colder months, prompting lenders to further reduce rates.
Dan Green, Homebuyer.com: Expects rates to rise post-Thanksgiving due to lower liquidity potentially magnifying the impact of negative news.
Ken H. Johnson, Florida Atlantic University: Attributes the decline in the yield on 10-year Treasurys to increased global demand, forecasting a subsequent decline in mortgage rates.
Dick Lepre, CrossCountry Mortgage: Notes a trend towards lower rates driven by market perceptions of controlled inflation.
Greg McBride, Bankrate.com: Cites expectations of slower economic growth, moderating inflation, and no further Fed interest rate hikes as influencing factors pushing mortgage rates downward.
James Sahnger, C2 Financial Corporation: Highlights the improvement in interest rates as mortgage-backed securities rise above their 100-day moving average.
Sean P. Salter, Middle Tennessee State University: Expects rates to flatten after the recent Fed decision, with a potential decline in mortgage originations leading to further rate reductions.
Bennie Waller, University of Alabama: Associates slowing inflation and lower treasury yields with the indication of lower mortgage rates.
Michael Becker, Sierra Pacific Mortgage: Foresees flat mortgage rates in the coming week due to low trading volumes and a light economic calendar during the holiday period.
What Do These Mortgage Rate Predictions Mean for Buyers and Sellers?
With the anticipated trends in mortgage rates for the upcoming week, both buyers and sellers in the real estate market need to consider the potential impact on their transactions and decisions.
Buyers
1. Timing is crucial: For buyers planning to secure a mortgage, the predicted rise in mortgage rates suggests that acting sooner rather than later could be advantageous. Locking in a rate now might result in lower overall borrowing costs.
2. Budget considerations: Higher mortgage rates mean higher monthly payments. Buyers should revisit their budgets and financial plans to ensure they can comfortably afford a home with the anticipated rate increase.
3. Explore pre-approval options: With the potential for rates to go up, getting pre-approved for a mortgage now could provide buyers with a competitive edge. It shows sellers that they are serious and financially capable of completing the transaction.
Sellers
1. Market your property effectively: Sellers should highlight the current lower rates to entice potential buyers. Emphasizing the advantage of locking in a lower rate before the anticipated increase could stimulate interest and offers.
2. Be flexible and open to negotiations: As rates climb, some buyers may be more cautious or need to revise their offers to accommodate the higher rates. Being open to negotiation can facilitate a successful sale in a changing rate environment.
3. Monitor local market dynamics: Stay informed about how mortgage rate predictions are affecting buyer demand and behavior in your specific market. Local variations in rate trends may require adjusting your selling strategy accordingly.
For both buyers and sellers, staying informed and adapting to changing mortgage rate trends is essential. The potential rise in rates can impact affordability and decision-making in the real estate market. Buyers should act thoughtfully and efficiently, while sellers should position their properties strategically to navigate these evolving financial landscapes.
Mortgage Rate Predictions for the Next Month – December 2023
Mortgage Rate Forecast for Next Week (Nov. 27-Dec. 1)
In the week of Nov. 27-Dec. 1, mortgage interest rates experienced a notable decline for the fourth consecutive week. According to Freddie Mac, the average 30-year fixed-rate mortgage (FRM) dropped from 7.44% on Nov. 16 to 7.29% on Nov. 22.
Sam Khater, Chief Economist at Freddie Mac, observed, "In recent weeks, rates have dropped by half a percent, but potential homebuyers continue to hold out for lower rates and more inventory. This dynamic is reflected in the latest data showing that existing home sales have fallen to a thirteen-year low."
Will Rates Go Down in December?
The trajectory of mortgage rates in December hinges on various factors that have shaped the market throughout 2023. The average 30-year fixed rate experienced fluctuations, reaching a low of 6.09% on Feb. 2 and climbing to 7.79% on Oct. 26.
The Federal Reserve's battle against inflation, coupled with uncertainty from Silicon Valley Bank's collapse and U.S. debt ceiling talks, contributed to the rate's volatility. However, with economic distress and the aftermath of U.S. debt ceiling discussions, the Fed might continue making hikes to bring interest rates down. The possibility of the economy entering a recession raises questions about whether the peak of the rate cycle has already occurred. Yet, the volatile nature of interest rates means fluctuations could occur at any given moment.
Expert Rate Predictions for December
Craig Berry, Branch Manager at Acopia Home Loans
Prediction: Rates will moderate. "Although rates have seen some downward movement recently, the unusually high gap between the 30-year fixed rate and the yield on the 10-year Treasury bonds has thwarted most of the positive gains. As the Feds are expected to leave interest rates alone through the remainder of 2023, we shouldn't see much in terms of mortgage rate movement through the end of the year."
Molly Boesel, Principal Economist at CoreLogic
Prediction: Rates will moderate. "While there was encouraging news on inflation last month which allowed the Federal Reserve to hold on interest rates, the landscape remains one where inflation will be their primary concern. This means that mortgage rates are poised to remain high, and near their current rate in December 2023. As inflation eases in 2024, expect mortgage rates to follow suit and start to decrease."
Ralph DiBugnara, President at Home Qualified
Prediction: Rates will fall. "It looks like we have had the first major shift downwards for rates in a while. In October, U.S. payrolls came in lower than anticipated, which is a good sign that inflation may have reached its peak and could trigger a lowering of rates. I expect the Fed to stay neutral for the remainder of the year with any rate cuts coming in the first quarter of 2024. For December I believe the average 30-year fixed rate will land at 7.65% and the 15-year fixed will be 6.99%."
Danielle Hale, Chief Economist at Realtor.com
Prediction: Rates will fall. "Mortgage rates are positioned to decline in November, and the streak may continue into December if the next few inflation readings come in as expected. Already, longer-term rates on bonds like the 10-year treasury have begun to decline in anticipation of the possibility that the Fed has done enough to cool the economy and tame inflation."
Jess Kennedy, COO at Beeline
Prediction: Rates will moderate. "The Fed's second pause in November was expected and very welcome. The 10-year Treasury yield dipped with the announcement and that's very welcome too. It's starting to rise again already though, and the spread between the 30-year fixed mortgage rate and 10-year remains large with nothing to indicate that gap closing soon. With all this in mind, we expect rates to stay steady or slightly dip in December."
Odeta Kushi, Deputy Chief Economist at First American
Prediction: Rates will moderate. "Data that indicates inflation continues to decelerate and the labor market continues to cool may help mortgage rates stabilize in December. Additionally, the FOMC is expected to release their projections in the December FOMC meeting. If the Fed doesn't hike rates in December and their inflation expectations and dot plot projections imply a more dovish Fed, mortgage rates may move down."
Mortgage Interest Rates Forecast Next 90 Days
As inflation ran rampant in 2022, the Federal Reserve took action to bring it down, resulting in substantial interest rate growth. The average 30-year fixed-rate mortgage more than doubled within the year. With inflation gradually cooling, the Fed's rate hikes are diminishing, and experts believe mortgage interest rates will move within a tighter range compared to the spikes seen in early 2022. However, the possibility of rates rising remains if global events cause economic uncertainty.
Mortgage Rate Predictions for 2023
As of Nov. 22, the average 30-year fixed-rate mortgage stands at 7.29%, according to Freddie Mac. Projections for 2023's fourth quarter average vary among major housing authorities:
| | |
| --- | --- |
| Housing Authority | 30-Year Mortgage Rate Forecast (Q4 2023) |
| National Association of Home Builders | 6.89% |
| Mortgage Bankers Association | 7.20% |
| Fannie Mae | 7.30% |
| Wells Fargo | 7.30% |
| National Association of Realtors | 7.80% |
| Average Prediction | 7.30% |
After hitting a 23-year high in 2023, many experts believe mortgage rates will follow a downward trajectory into 2024. Despite the increase, interest rates are still below historical averages, dating back to April 1971.
Will Mortgage Rates Go Down Next Week?
The outlook for mortgage rates in the week of Nov. 27-Dec. 1, 2023, is uncertain. Rates could decrease if the mortgage market adopts a cautious approach due to a possible recession. Conversely, rates might rise as lenders consider the Federal Reserve's actions in 2024. Various factors, including high inflation, a robust housing market, and policy changes by the Federal Reserve, have contributed to higher rates in 2022 and 2023. However, the prospect of a recession could potentially lead to a decline in mortgage rates.
As December unfolds, the direction of mortgage rates remains uncertain. Expert predictions suggest a potential for moderation or even a decline in rates, but various economic factors could influence the outcome. Prospective homebuyers and refinancers are advised to stay informed, act promptly in a competitive market, and explore refinancing options to secure favorable rates. Despite recent increases, mortgage rates remain historically low, offering opportunities for borrowers in the current market landscape.
Current Rate Trends and Considerations
| | |
| --- | --- |
| Month | Average 30-Year Fixed Rate |
| October 2022 | 6.90% |
| November 2022 | 6.81% |
| December 2022 | 6.36% |
| January 2023 | 6.27% |
| February 2023 | 6.26% |
| March 2023 | 6.54% |
| April 2023 | 6.34% |
| May 2023 | 6.43% |
| June 2023 | 6.71% |
| July 2023 | 6.84% |
| August 2023 | 7.07% |
| September 2023 | 7.20% |
| October 2023 | 7.62% |
Source: Freddie Mac
---
Sources:
https://www.bankrate.com/mortgages/rate-trends/

https://themortgagereports.com/32667/mortgage-rates-forecast-fha-va-usda-conventional

http://www.freddiemac.com/research/datasets/refinance-stats/index.page

https://www.blackknightinc.com/category/press-releases

https://www.federalreserve.gov/monetarypolicy/fomccalendars.htm