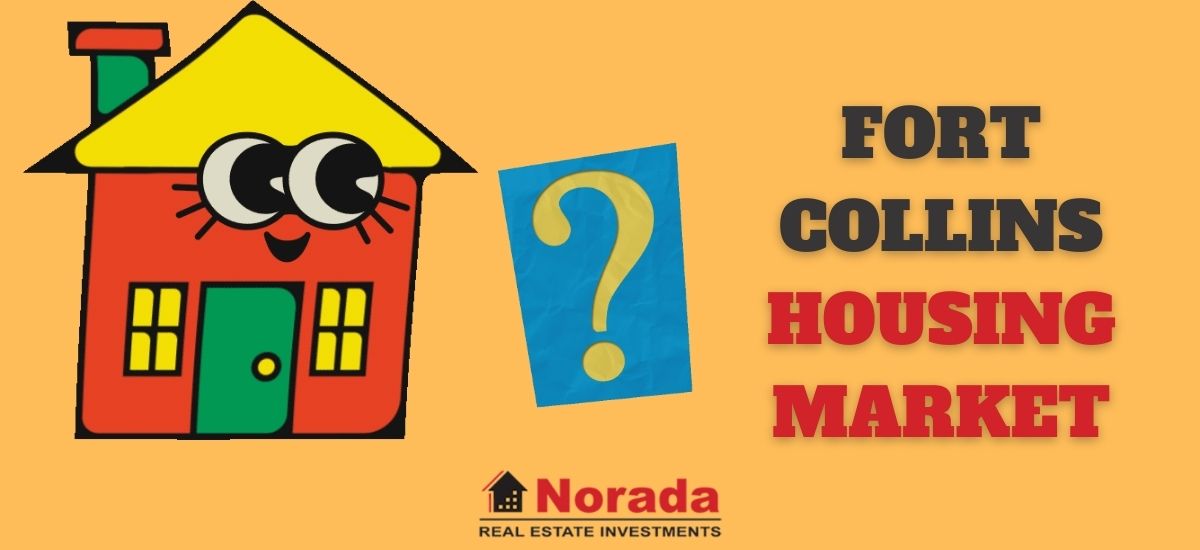 Fort Collins, Colorado is a picturesque city located at the foothills of the Rocky Mountains. Known for its scenic beauty, vibrant downtown, and top-rated schools, Fort Collins has become a popular destination for homebuyers. In this post, we'll take a look at the Fort Collins housing market, including prices, trends, and forecasts for 2023.
Fort Collins Housing Market Trends
Let's delve into the latest updates on the Fort Collins housing market provided by the Fort Collins Board of REALTORS®. In this report, we will dive into the key statistics and trends for July 2023 that define the current state of the real estate market in Fort Collins. Whether you're a prospective buyer or seller, understanding these trends is crucial for making informed decisions.
New Listings
In the past year, there has been a notable shift in new listings. Single-family home listings decreased by 15.3 percent, while townhouse-condo property listings increased by an impressive 32.0 percent. This divergence suggests that buyers are exploring a wider range of housing options in Fort Collins.
Pending Sales
The number of pending sales for single-family homes reached 214, while townhouse-condo properties had 55 pending sales. This data reflects the strong demand in the market, with buyers actively seeking properties in Fort Collins. The pending sales figures indicate a competitive landscape.
Median Sales Price
The median sales price for single-family homes rose by 7.9 percent, reaching $659,300. Townhouse-condo properties also saw an increase of 5.1 percent, with a median sales price of $425,680. These price hikes suggest that Fort Collins remains an attractive market for both property types.
Days on Market
Days on market increased for both single-family homes and townhouse-condo properties. Single-family homes saw a 22.5 percent increase, while townhouse-condo properties experienced a 17.0 percent rise in the time properties spent on the market. This change may indicate a more deliberate approach by buyers and sellers.
Are Home Prices Dropping in Fort Collins?
No, home prices in Fort Collins are not dropping. In fact, they have continued to rise, as evidenced by the increase in median sales prices. This suggests that the demand for housing in Fort Collins remains strong, leading to higher property values.
Is Fort Collins a Buyer's or Seller's Market?
The current Fort Collins housing market leans more towards being a seller's market. With a decrease in new listings, a high number of pending sales, and rising median sales prices, sellers have an advantage. However, it's essential to work with a knowledgeable real estate agent to navigate the complexities of this competitive market effectively.
The Fort Collins housing market continues to display resilience and strength. While some indicators, such as increased days on market, suggest a more balanced environment, the overall trend favors sellers. Buyers should be prepared to act decisively, and sellers should take advantage of the favorable conditions.
Fort Collins Housing Market Forecast 2023-2024
The Fort Collins housing market is a dynamic and ever-changing landscape. To help you navigate the future of real estate in this vibrant Colorado city, we've gathered data and insights from Zillow to provide you with a comprehensive forecast.
As of July 31, 2023, the average home value in Fort Collins stands at $557,843. While this represents a decrease of 1.0% over the past year, it's important to note that the market remains robust. Homes in Fort Collins typically go pending in a mere 7 days, indicating a high level of demand and competitiveness among buyers.
Additional key statistics as of June 30, 2023, include:
Median Sale to List Ratio: 1.006
Percent of Sales Over List Price: 54.8%
Percent of Sales Under List Price: 25.3%
Median Days to Pending: 7 days
These figures illustrate the fast-paced and competitive nature of the Fort Collins housing market. With a median sale-to-list ratio above 1 and a significant percentage of sales occurring above the list price, it's clear that properties in Fort Collins are highly sought after.
Now, let's turn our attention to the Fort Collins Metropolitan Statistical Area (MSA) housing market forecast:
Based on the provided data, the forecast for Fort Collins, CO, suggests the following trends:
By the end of August 2023, home values are expected to increase by 0.6%.
Looking ahead to the end of October 2023, there is a projected 1.3% increase in home values.
For July 2024, a substantial 4.4% increase in home values is anticipated.
These forecasts indicate a positive trajectory for the Fort Collins MSA housing market, with steady growth expected in the months to come. Buyers and sellers alike can find opportunities in this market, but it's essential to stay informed and work with local real estate experts to make the best decisions.
Conclusion
While the average home value in Fort Collins saw a slight decline over the past year, the market remains vibrant, with properties selling quickly and often above their list prices. The Fort Collins MSA housing market forecast paints an optimistic picture, with anticipated growth in home values in the near future. As always, staying updated on market trends and seeking advice from real estate professionals is essential for those considering buying or selling in Fort Collins.
Fort Collins Real Estate Investment Overview
Northern Colorado city Fort Collins is regarded as one of the most desirable places to reside in Colorado. Fort Collins, with a population of over 170,000, has a thriving economy, exceptional schools, and a thriving culture. Colorado State University is located in the city, which contributes to its vibrant and educated population. All of these factors have made Fort Collins an attractive real estate investment location.
The city's robust rental market is one of the primary reasons why Fort Collins is an excellent real estate investment opportunity. Consistently robust, due to the high demand for housing from students, families, and young professionals. In addition, the city's stringent zoning regulations restrict the number of rental properties, resulting in a limited supply of rental units. This circumstance leads to high rental costs and low vacancy rates.
Fort Collins's housing market has also experienced consistent growth over the years, making it an ideal location for real estate investors. According to Zillow, the median home value in Fort Collins is $540,015; this value is expected to rise in the future. Realtor.com also reports that the median listing price for a residence in Fort Collins was $575K in February 2023, an increase of 12.7% annually.
Fort Collins's real estate market is diverse and offers a variety of investment opportunities. Investors have the option of purchasing single-family residences, condominiums, townhomes, and even commercial properties. In addition, the city's robust economy has led to a growing demand for commercial real estate, providing investors with an excellent investment opportunity.
Additionally, investors in Fort Collins benefit from the city's tax policies, making it a low-cost investment option. Colorado has no estate or inheritance tax, and its property tax rates are among the lowest in the nation.
Overall, Fort Collins presents a unique opportunity for real estate investors. With a robust rental market, a thriving economy, and a diverse real estate market, investors can find opportunities that align with their specific objectives.
Top Reasons to Invest in Fort Collins Real Estate
There are several compelling reasons why investing in Fort Collins real estate can be a smart decision. Here are some of the top reasons to consider:
Strong Market Fundamentals: Fort Collins has a thriving economy, a stable employment market, and a consistently high standard of living. These factors make the area appealing to both renters and homebuyers, thereby assuring a steady demand for real estate.
Diverse Housing Options: Fort Collins provides a variety of housing options, ranging from affordable apartments to luxury residences, making it an attractive market for investors with varying budgets.
Proximity to Denver: Fort Collins is a little more than an hour's journey from Denver, one of the fastest-growing cities in the United States. This makes Fort Collins an attractive option for people who work in Denver but prefer a smaller, tranquil community.
Strong Rental Market: Fort Collins has a robust rental market due to its large student population, as well as its growing number of young professionals and families. This affords investors opportunities to generate consistent rental income.
Appreciation Potential: Fort Collins real estate has historically appreciated at a consistent rate, and with the city's expanding population and robust economy, there is the potential for future appreciation.
Favorable Regulatory Environment: Fort Collins has a favorable regulatory environment, with minimal taxes and a streamlined regulatory procedure. This facilitates the acquisition and management of the real estate in the area by investors.
Outdoor Recreation: Fort Collins is surrounded by stunning natural scenery, including the Rocky Mountains and Horsetooth Reservoir, ideal for outdoor recreation. This makes it a desirable destination for outdoor enthusiasts, which can increase demand for vacation rentals.
Thus, Fort Collins is an attractive location for real estate investors due to its combination of robust market fundamentals, diverse housing options, and lenient regulations.
Buying an investment property is different from buying an owner-occupied home. Whether you are a beginner or a seasoned pro you probably realize the most important factor that will determine your success as a Real Estate Investor in Fort Collins, CO is your ability to find great real estate investments in that area.
According to real estate experts, buying in a market with increasing prices, low interest, and low availability requires a different approach than buying in a cooler market. We strive to set the standard for our industry and inspire others by raising the bar on providing exceptional real estate investment opportunities in U.S. growth markets. We can help you succeed by minimizing risk and maximizing profitability.
Let us know which real estate markets you consider best for real estate investing! If you need expert investment advice, you may fill up the form given here.
---
Remember, caveat emptor still applies when buying a property anywhere. The information contained in this article was pulled from third-party sites mentioned under references. Although the information is believed to be reliable, Norada Real Estate Investments makes no representations, warranties, or guarantees, either express or implied, as to whether the information presented is accurate, reliable, or current. All information presented should be independently verified through the references given below. As a general policy, Norada Real Estate Investments makes no claims or assertions about the future housing market conditions across the US.
Sources:
https://fcbr.org/monthly-housing-statistics/

https://www.zillow.com/fort-collins-co/home-values/

https://www.redfin.com/city/7006/CO/Fort-Collins/housing-market

https://www.neighborhoodscout.com/co/fort-collins/real-estate

https://www.realtor.com/realestateandhomes-search/Fort-Collins_CO/overview

https://www.zumper.com/rent-research/fort-collins-co